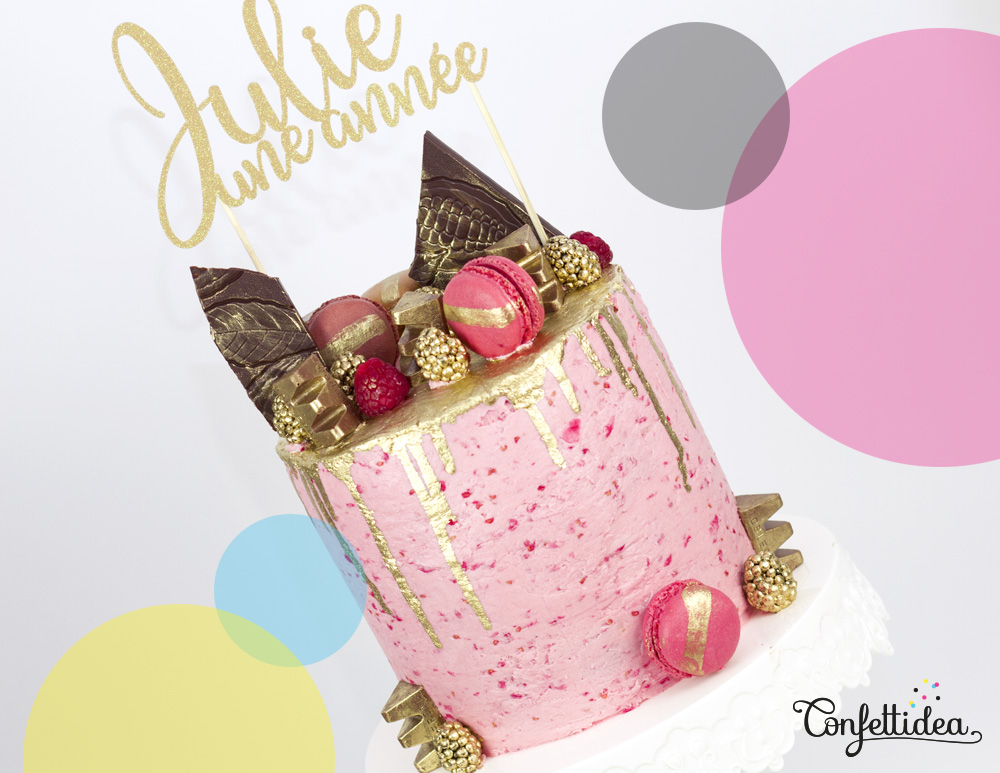 Julie First Birthday Cake
Hello everyone ! I  havn't given any sign of life since December 1st. But I am still alive. 🙂
And I come back with a cake. These pretty pink cake was made to celebrate the first birthday of my husband's goddaughter named Julie. If you had the chance to taste this cake you obviously would have recognize a flavor of lemon. I made it in two colors: pink and yellow and a checkerboard appeared when cutting. And the buttercream was a raspberry buttercream, yum yum…
PS: I try to write in english but it isn't my mother tongue. Sorry if you find some mistakes.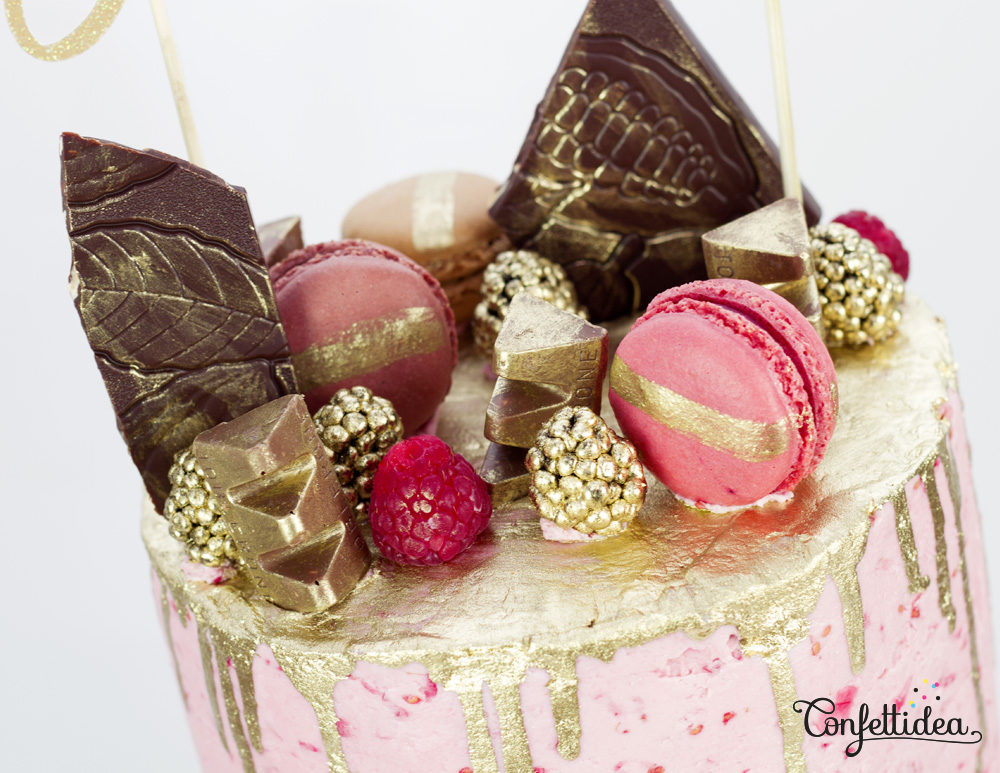 Sugarpaste (fondant) is not really appreciated anymore… That's normal… It does not really taste good. But as I learned from my experiences, I always say that you have to see a cake covered with sugarpaste (fondant) like a banana: you must remove the skin and eat what's inside.
So for this girly cake, I decided not to put sugarpaste (fondant) but cover it with an amazing raspberry italian meringue buttercream. It was sooooo good 🙂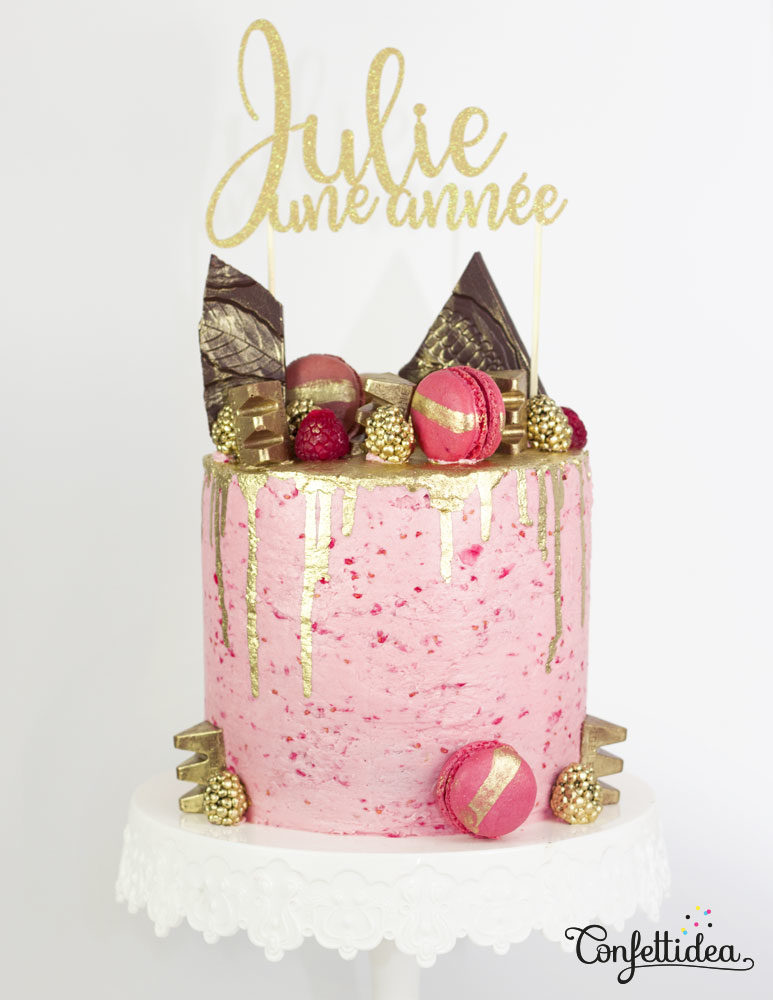 And if you don't have much time to decorate a cake, just buy a lot of berries, sweets and chocolate. Add a touch of golden edible powder and you're done. This cake looks savoury, no?
To make a checkerboard when cutting the cake:

Cut out your cakes with round cookie cutters.
Rearrange your cut out cakes to create a mix of colors (this can be done with 2 colors but also with 3, 4, 5…).
And here is the checkerboard (photographed with my mobile phone because my Canon had no more battery…):
PS: The red traces are raspberries that I put between the layers of the cake. For a clearer result, it's better to use white buttercream and add nothing between the cake's layers (candy, fruit, chocolates, etc.).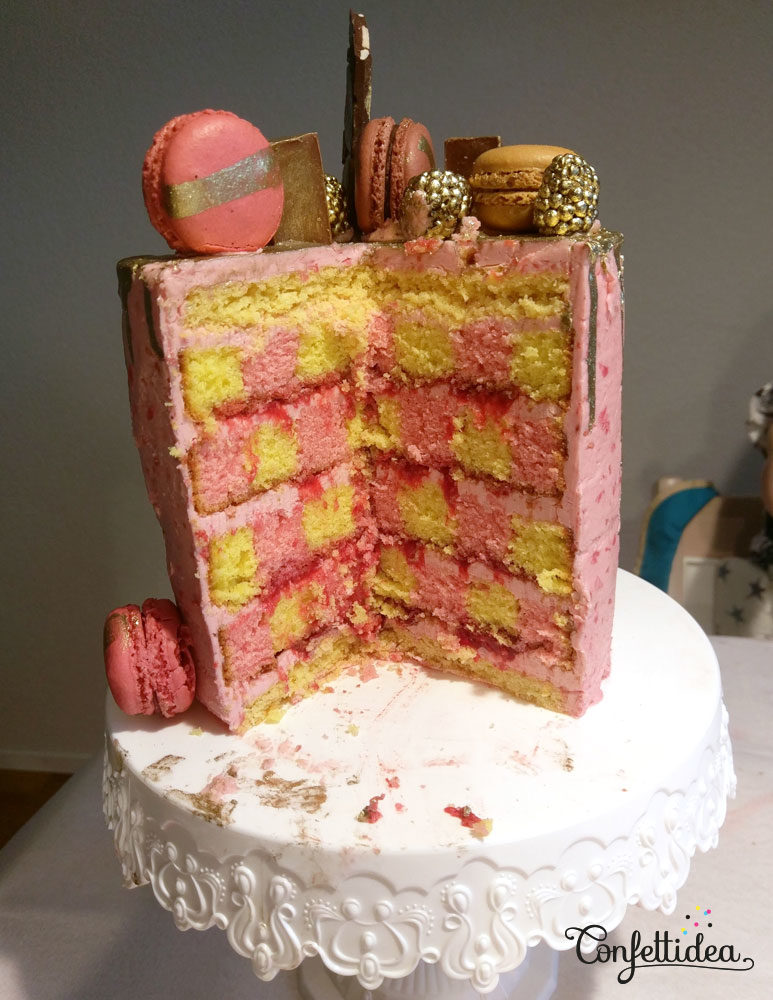 And finally, I created the cake topper with my super-awesome machine: the Cricut Maker. It's just an amazing machine, I'm super fan !!! I draw in illustrator and then cut my drawings into all sorts of paper and fabrics. So here I chose a golden glitter paper to create this super-cute cake topper.