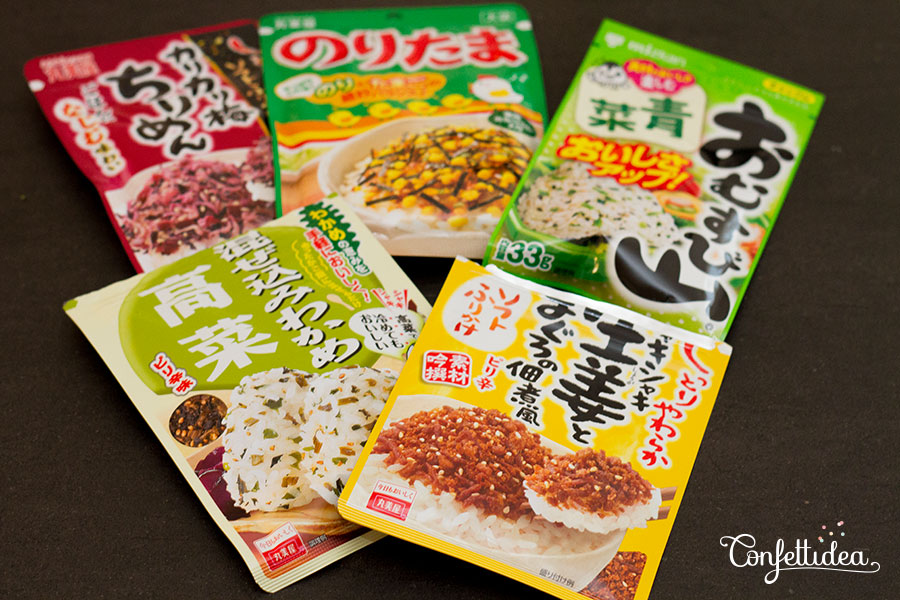 Japanese Rice Seasonings
In my "Salmon Poached with Coconut Milk", I advise you to put some japanese rise seansonings in your rice. If you don't know yet this ingredient, I can tell you that is something you have to test. In no time, you can give taste to your hot rice like you never did.
First, the packaging of this seasonings are not really appetitizing: a colorful background with a strange bowl of rice. The japanese typography doesn't help to know what's inside. Is it natural or chemical ? How to eat this ?
But you don't have to be afraid of this stange package. They include sesame seeds, wheat flour, sugar, salt, soy, seaweed, Japanese green tea, monosodium glutamate* and vegetable oil. These are the main ingredients of these seasonings.
Here is how to use these seasonings: baked your rice without salt. As soon as it is ready (still hot), adds a bit of this seasoning and mix. The dry elements will moisten with rice and all their flavors will coming out. Go slowly, you don't want a too salty rice. Pour a little of the seasonings on your rice and taste it. Add more if needed.
In general, the taste that emerges the most is the taste of seaweed. Everything is salty. But it depends on each package. So do not hesitate to test several.
*Monosodium glutamate (MSG, also known as sodium glutamate) is the sodium salt of glutamic acid, one of the most abundant naturally occurring non-essential amino acids. Monosodium glutamate is found in tomatoes, Parmesan cheese, potatoes, mushrooms, and other vegetables and fruits. Wikipedia
Tags: rice