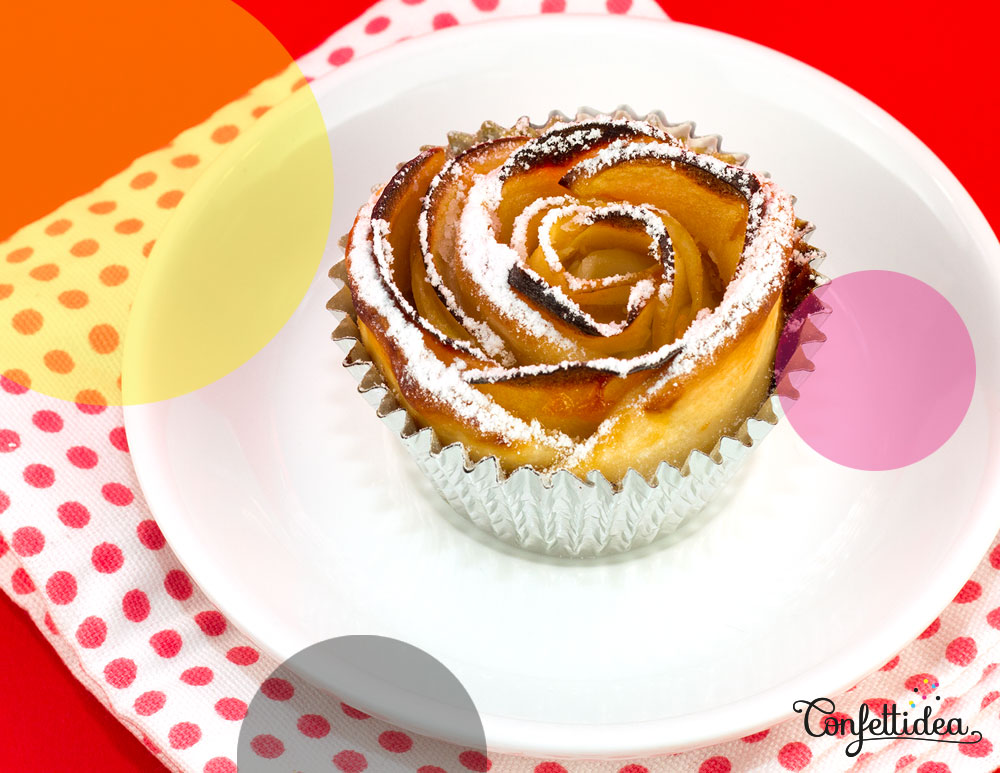 Rose Shaped Apple Pie
Do you need an idea for your next brunch ? Or do you simply want to change the way you bake your delicious apple pie ? I have the solution for you in the video below: a rose shaped apple pie !
This recipe is very simple and fast to make. Everyone at home will be happy to taste it. Do not hesitate to try 😉 You can put everything you like in your pie instead of apricot jam and grated coconut, but trust me, this mix is perfect.
With a round pie crust, I could bake six rose shaped apple pies (just roll again leftover dough).
INGREDIENTS
Nbr de roses: environ 6
1 Shortcrust pastry dough
2 Apples
1 Lemon
Apricot Jam
Grated Coconut
Material: a 8 cm diameter round cookie cutter
DIRECTION
Prep: 10 min     Bake: 30 min
Preheat the oven to 390° F (200° C). Prepare a Muffin/Cupcake pan with cupcake cases (in aluminium is better).
Cut apples in half, remove the center and then cut into thin strips.
Put the sliced apples in a bowl of water. Cut lemon in half and squeeze in the juice.
Heat in microwave for about 5 minutes (apples must become slightly soft).
Cut 8 cm diameter rounds in shortcrust pastry dough. Put 3 rounds next to each other by slightly overlapping them on the edges (see video above).
Spread apricot jam on dough and then sprinkle with grated coconut.
Put sliced apple on the dough. Do not hesitate to put enough, it will be yummier.
Roll the dough and place the obtained rose in a cupcake case.
Bake 25 minutes (depending on your oven) at 390° F (200° C)
After being removed from the oven, let cool the roses for about 5 minutes. Then sprinkle with icing sugar. Enjoy still warm, it will be even better.