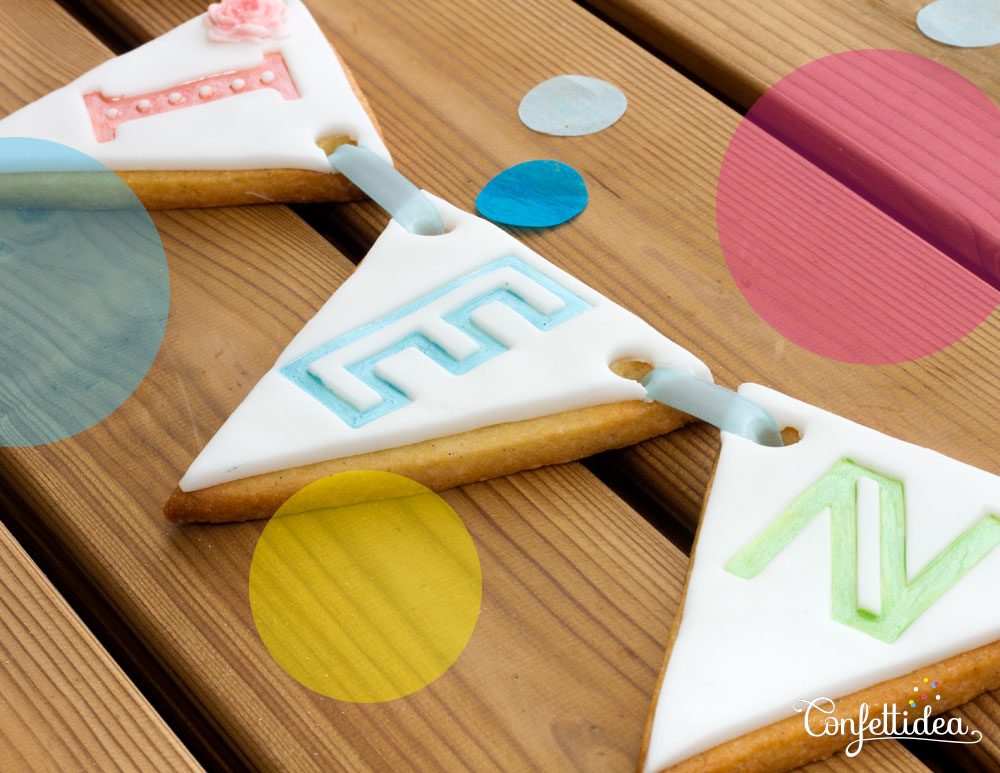 Birthday Banner Cookies
Yesterday we celebrated the 6th birthday of Etienne. I wanted to offer him a sweet treat but I didn't have so much time to bake something huge. So I opened my freezer and I had one cookie dough left since last week. After thawed, I cut it into seven identical triangles shape. Each triangle correspond to a letter of his name (E T I E N N E), the goal is to create a banner with his name.
Here are the steps to follow:
Preheat oven to 350° F (180° C).
Roll out cookie dough (if it is not already) (* recipe is available below).
Cut out triangles (the number of triangles is the number of letters you want).
Cut two circles in each triangle upper corner in order to put the ribbon.
Bake cookies for 9 about minutes at 350° F (180° C).
Roll out white sugarpaste and cut out same triangles as cookies shape.
Embossed letters (or numbers) on each sugarpaste triangle.
Once cooled, cover cookies with sugarpaste triangle by sticking them with corn syrup.
By lifting the sugarpaste edges slightly, look where small holes are in the cookie and make holes in the same place in the sugarpaste.
Paint letters with metallic food paint (make 2 or 3 layers).
Thread the ribbon through the holes and offer the banner cookies as a gift or suspend it.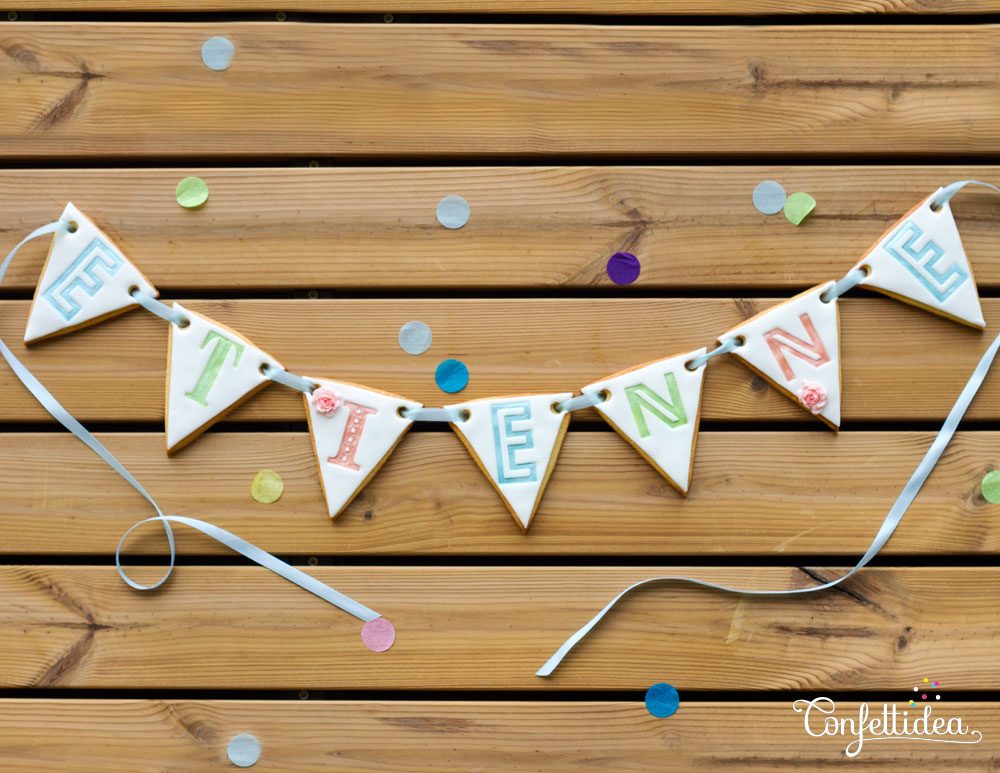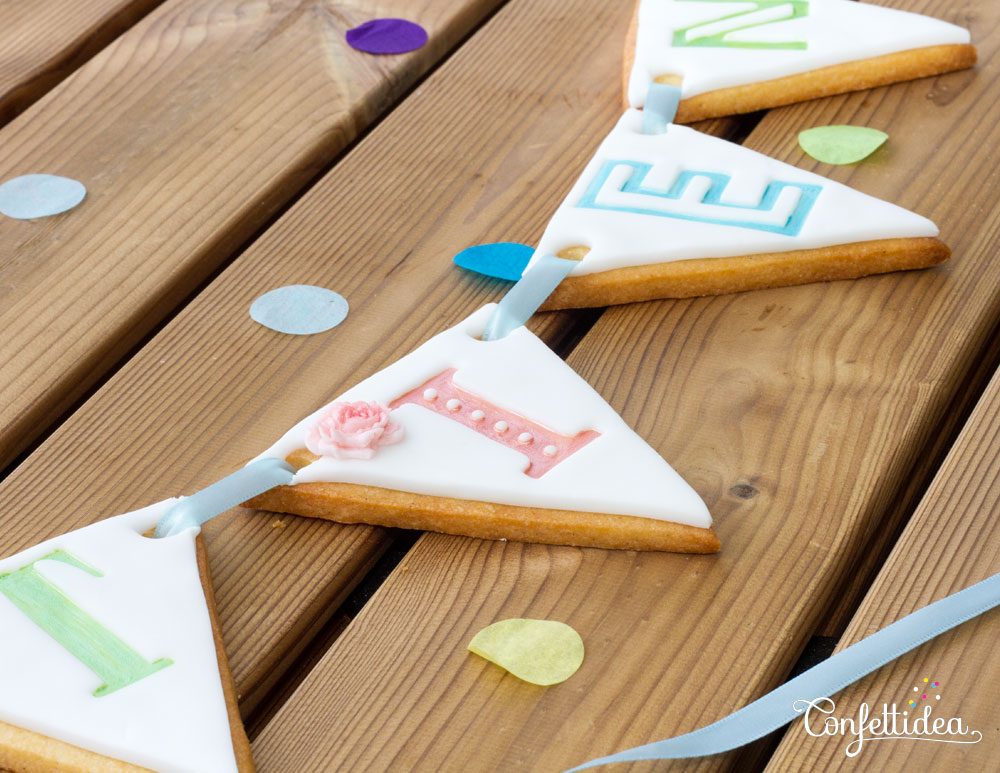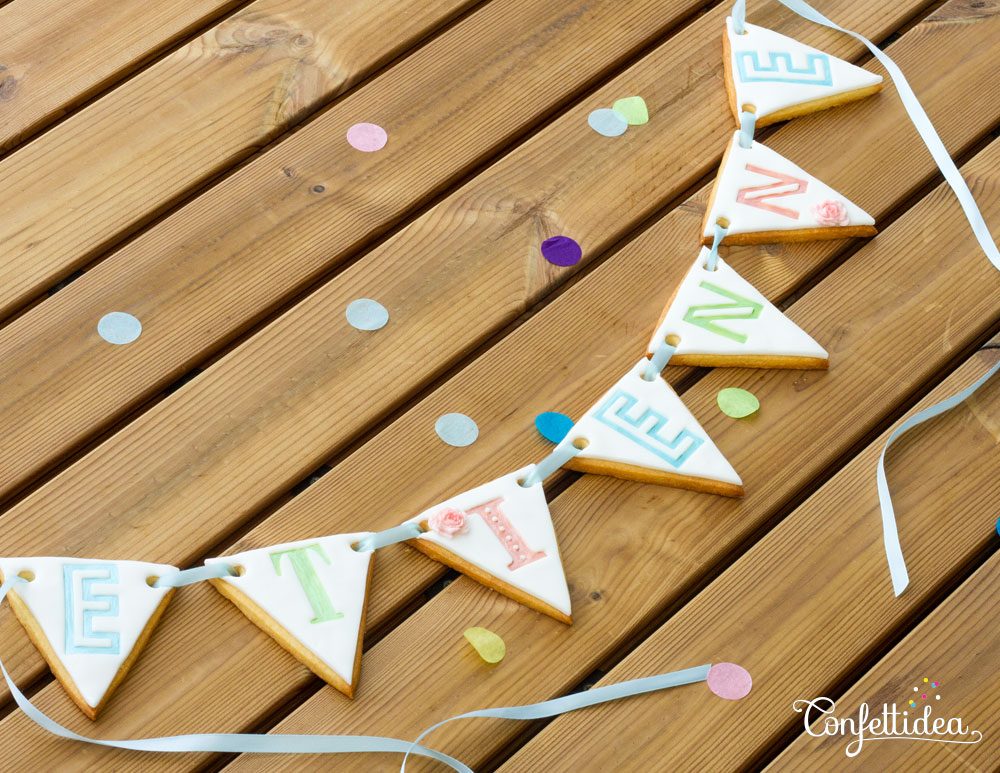 INGREDIENTS
This recipe makes 8 dozen 3″ (7,5 cm) cookies
6 cups all-purpose flour
3 teaspoons baking powder
1 teaspoon salt
2 cups unsalted butter
2 cups granulated sugar
2 large eggs
2 teaspoons vanilla extract
DIRECTIONS
Preparation: 10 min     Baking time: 8-10 min (depending on the cookies size)
Preheat oven to 350° F (180° C). Cream sugar and butter until fluffy, about 5 minutes. Add eggs and vanilla. Mix dry ingredients in separate bowl and add to butter mixture. Mix well.
Put a handful of the freshly made dough between two sheets of parchment paper and roll to desired thickness. Repeat with the rest of the dough. Put the rolled dough, including the parchment paper, on a cookie sheet and refrigerate for 10 minutes or longer. Your dough will be chilled and ready to cut and bake with no wait and no added flour! Repeat with scraps after cutting cookies.
Bake at 350° F (180° C) for 8 -10 minutes. Let cool.