4th of July Fruits Tartlets
Tomorrow, USA will celebrate their 240th Independence Day. For this occasion, I offer you a pretty special USA fruits tart. This tart is also very tasty and fresh to start this summer.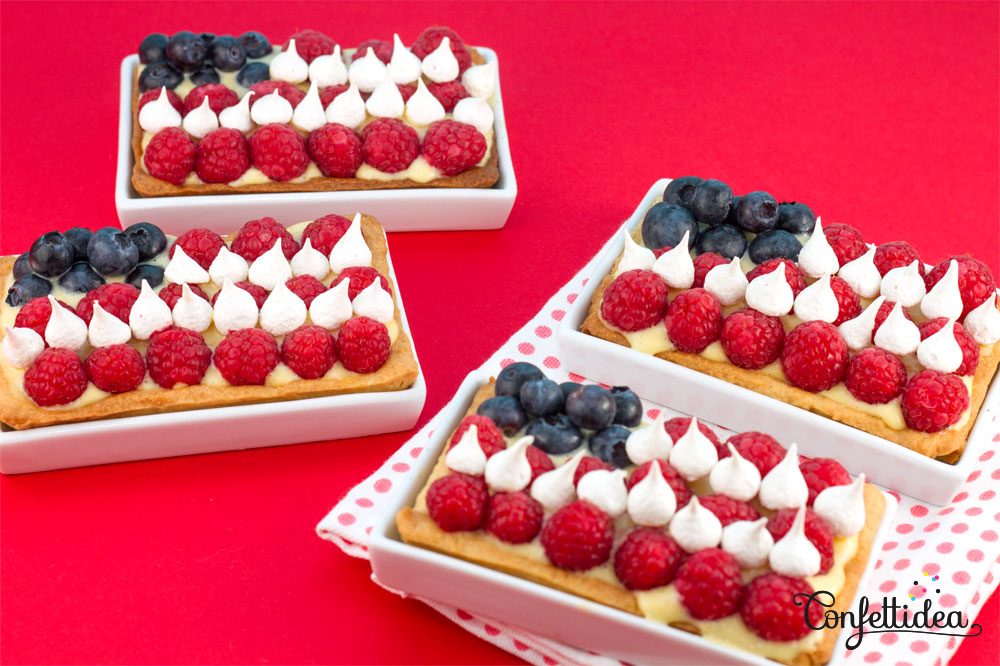 PS: I try to write in english but it isn't my first language. Sorry if you find some mistakes.
INGREDIENTS
For 4 rectangular tartlets about 12 x 8 cm
Shortcrust Pastry:
190g Flour

20g Corn starch

90g Icing sugar

130g Very cold butter

36g Almonds powder

A pinch of salt

1 Egg
Pastry Cream:
500ml Milk
100g Sugar
5 Egg white
60g Corn starch (or flour)
1/2 vanilla pod
Decoration:
About 500g Raspberries
About 200g Blueberries
DIRECTION
Prep: 25 min     Cook: 25 min     Chill: 1 heure 30 minutes
We start with the Shortcrust Pastry: In a mixer bowl, with paddle attachment, mix all the ingredients for the shortcrust pastry until the dough forms a ball (5 min maximum).
Put the dough in cling-film and store at least 1 hour in refrigerator.

Roll out the dough and put it in small tartlets moulds. Prick shortcrust pastry with fork.

Put the dough in the freezer about 30 minutes to prevent shrinks during cooking.

Preheat oven to 338° F (170° C).

Bake 25mn and let cool.

Pastry Cream: In a saucepan, pour 500ml of milk. Scrape half of a vanilla pod with a knife, and add the vanilla beans and the pod into the milk. Bring to boil on low heat.
Put 5 egg yolks in a bowl. Pour 100g of sugar and whisk vigorously until the mixture whitens and sugar crystals are dissolved.
Gradually add 60g of cornstarch to egg yolks + sugar mixture. Slowly whisk, making sure there are no lumps.
Once the mixture is well blended, pour half of the vanilla milk – just boiling – into the cream. Mix slowly first and morevigorously at the end. When the cream is soft, pour it in the remaining milk.
Put the saucepan over low heat. Stir constantly until you can see the first bubbles, which coincides with the thickened cream. The cream must remain flexible.
When the cream is ready, turn off heat and continue to whisk so it will cool down faster. To prevent a dry crust on the surface, gently tap the cream with 50g butter. This will help the cream to keep soft and shiny.
Finally, the decoration: When shortcrust pastry is cold, put pastry cream on it.
Add fruit starting from the bottom: a line of raspberries, then a line of mini meringues and a line of raspberries. Add blueberries in the upper left corner and finish with a line of mini meringues and a line of raspberries next to the blueberries.
Déguster de suite ou conserver au réfrigérateur, couvert d'un papier film alimentaire, jusqu'à 2-3 jours. Bonne dégustation ! 🙂
Taste it now or put them in the fridge, covered with a plastic wrap, up to 2-3 days. Enjoy ! 🙂
Tags: blueberries, blueberry, framboises, meringue, myrtilles, pie, raspberries, raspberry, tart, tarte, Tartlets