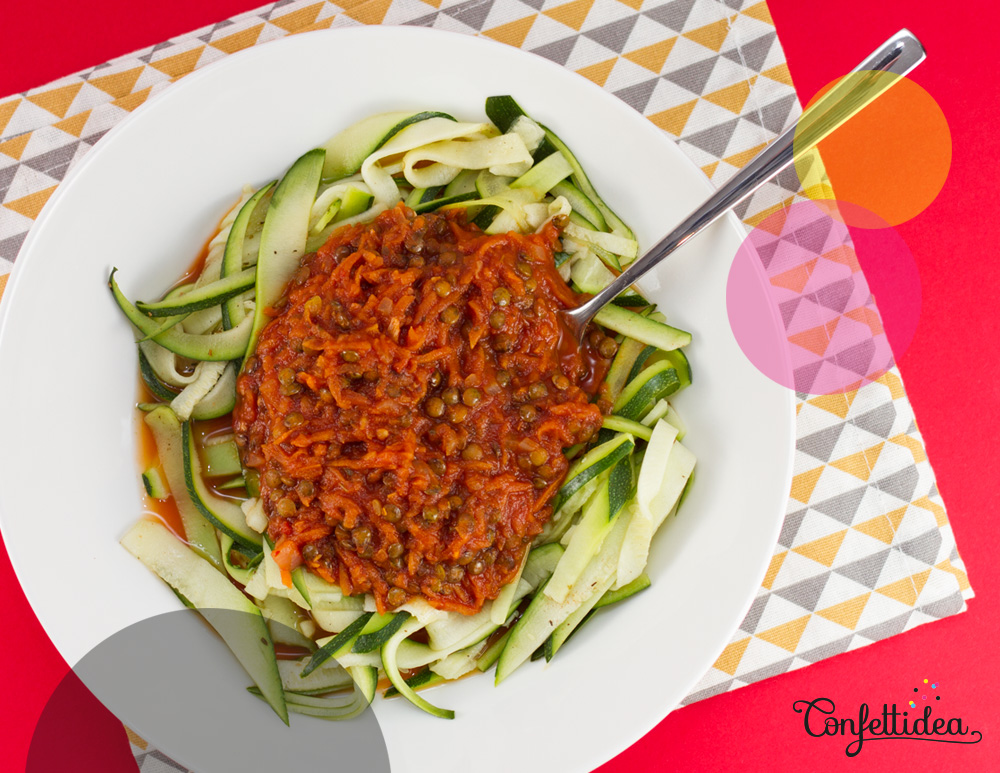 Zucchini Spaghettis with Lentil Bolognese
Hi littles Foodaholic! Here is a recipe that my man loves. Full of vegetables and protein 🙂 What a joy! And yes, it's VERY VERY good, it's vegan and it's gluten free. So don't hesitate any longer, print out my little recipe and try it at home tomorrow, or next week. But don't any longer because it's possible that you regret not having done it sooner. Let's cook!

Mince onion and garlic. Heat a large skillet.

Once hot, add olive oil, minced onion and garlic.

Cook for about 2-3 minutes, until onion becomes clear.

Grate the carrots.

Add grated carrots and a pinch of salt in the skillet and mix.

Cook for about 4 minutes then add the marinara sauce and mix.

Add a pinch of pepper flake, basil, oregano, coconut sugar, water and lentils. Bring to a boil, then reduce heat and continue cooking until lentils are cooked (about 20 minutes).

Stir occasionally and add a bit more water if mixture gets too thick.

While the sauce is cooking, prepare the zucchini spaghettis.

Cut the zucchini using a mandolin (on the long side of the zucchini).

Put all zucchini pieces one above the other and cut thin strips.

Here are your zucchini spaghettis.

Spread zucchini spaghettis on a steaming plate and season with salt and pepper. Bake in steamer at 212° F (100° C) for 20 minutes.

If you don't have a steamer, cook the zucchini spaghettis in boiling water.
Assemble zucchini spaghettis and lentils tomato sauce and taste immediately! YUMMY 😉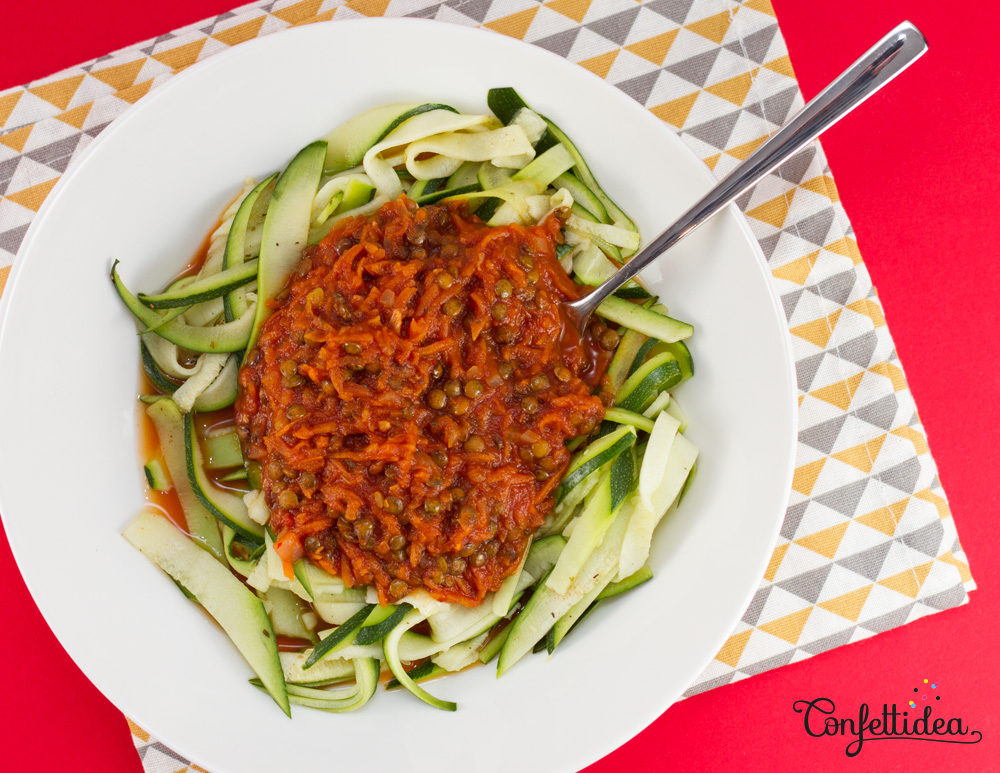 Spaghettis de courgette et sauce lentilles bolognese
Auteur / Author:
Valentine
Cuisine:
Vegan, Gluten Free, Italian
Ingrédients / Ingredients
1tsp Olive oil
1 Onion
4 Cloves garlic
3 Carrots
750ml Your favorite marinara sauce
1 Pinch of red pepper flake
1tsp dried basil
1tsp dried oregano
1Tbsp coconut sugar (or sub stevia)
½ cup (120ml) Water
¾ cup (144g) Lentils, rinsed and drained
4 Zucchini
Salt
Pepper
Instructions
Mince onion and garlic.
Grate the carrots.
Heat a large skillet. Once hot, add olive oil, minced onion and garlic. Cook for about 2-3 minutes, until onion becomes clear.
Add grated carrots and a pinch of salt in the skillet and mix. Cook for about 4 minutes then add the marinara sauce and mix.
Add a pinch of pepper flake, basil, oregano, coconut sugar, water and lentils. Bring to a boil, then reduce heat and continue cooking until lentils are cooked (about 20 minutes). Stir occasionally and add a bit more water if mixture gets too thick.
While the sauce is cooking, prepare the zucchini spaghettis. Cut the zucchini using a mandolin (on the long side of the zucchini).
Put all zucchini pieces one above the other and cut thin strips. Here are your zucchini spaghettis.
Spread zucchini spaghettis on a steaming plate and season with salt and pepper. Bake in steamer at 212° F (100° C) for 20 minutes. If you don't have a steamer, cook the zucchini spaghettis in boiling water.
Assemble zucchini spaghettis and lentils tomato sauce and taste immediately! YUMMY 😉
Tags: carotte, carotte, courgette, courgette, lentilles, lentilles, sans gluten, sans gluten, spaghettis, spaghettis, tomate, tomate, végétalien, végétalien