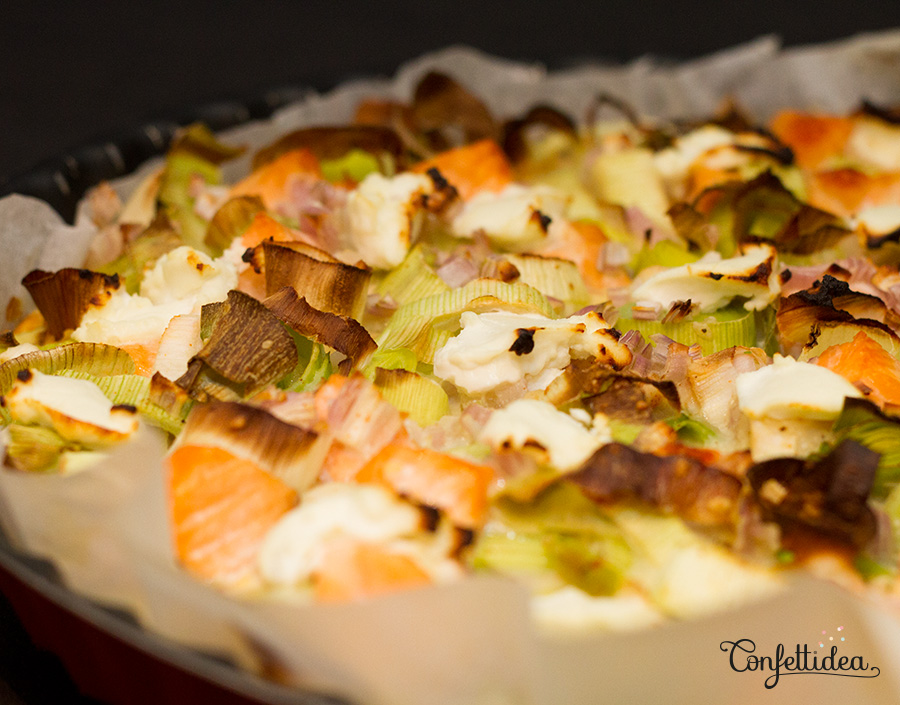 Salmon and Leek Pie without Dough
You can make this "pie without dough" recipe with a different toppings every week 🙂 .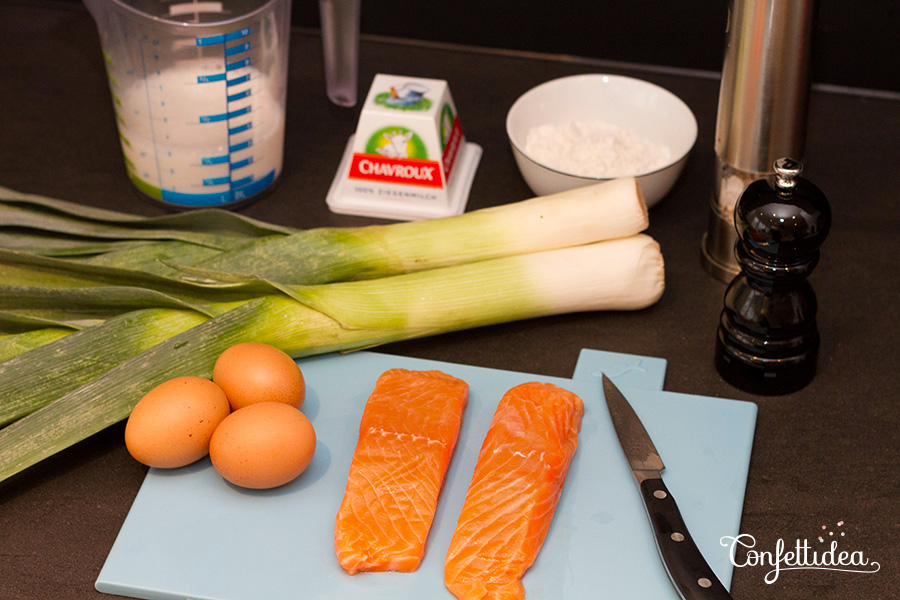 The base of this pie is: 30cl milk, 60g flour, 3 eggs and seasoning (salt, pepper, paprika, curry, italian seasonings, etc…) Then, put everything you want for the topping. For this time, I chose shallots, leeks, salmon and goat cheese.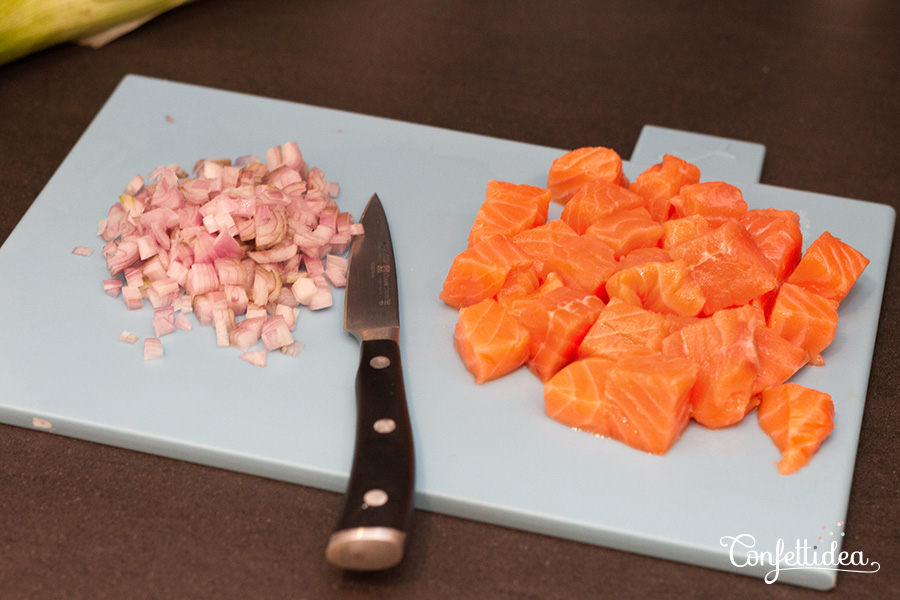 Cut everything: salmon into cubes, dice the shallots and leeks into slices.

Next, mix the milk, flour, eggs and seasonings (I took salt, pepper and paprika) in a bowl. For an healthier pie, remove the egg yolks.
Then, place a parchment paper on your pie plate. If you have a silicon mold for baking your pie, you don't need tu put a parchment paper.

Put all your pre-cut ingredients in the pie pan and pour the flour mixture over it.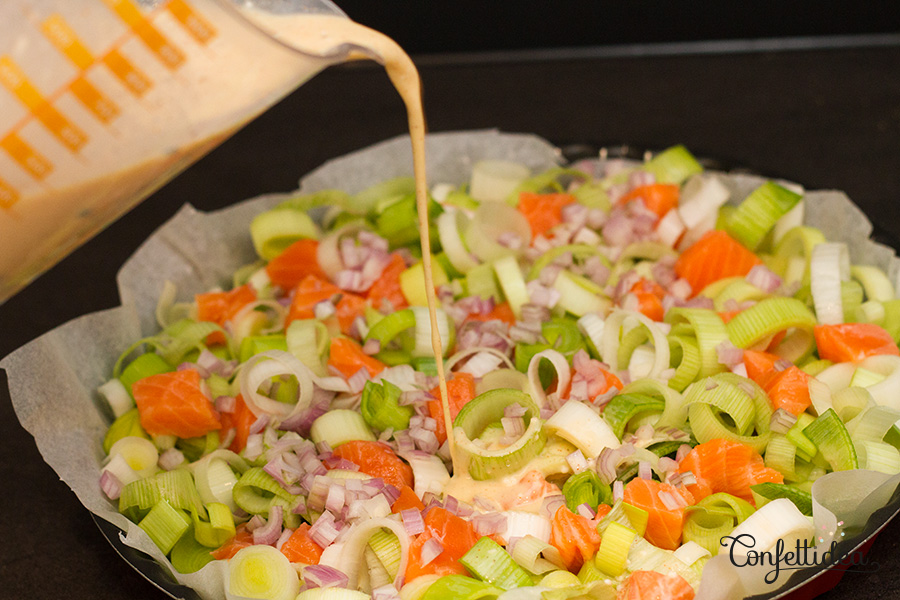 Bake this yummy pie at 395° F (200° C) for about 25 minutes.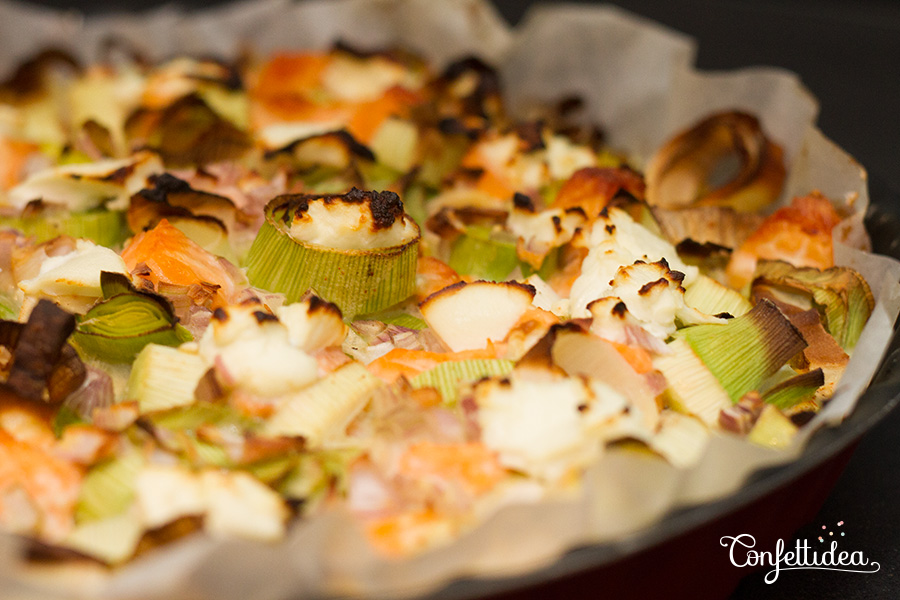 INGREDIENTS
servings: 4
2 leeks
2 salmon steaks
50g goat cheese
30cl milk
60g flour
3 eggs
1 shallot
Salt
Pepper
Paprika
DIRECTION
Prep: 10 min     Cook: 25 min
Preheat the oven to 395° C (200° C). Dice salmon and shallot. Cut leeks into rings and wask thoroughly.
Combine milk, flour, eggs (or only egg whites), salt, pepper and paprika in a bowl with a small whip.
Cover your pie pan with parchment paper and put all the pre-cut ingredients (in step 1). Add goat cheese pieces around the pie.
Pour the flour mixture evenly in the pie pan.
Cook your pie in a preheat oven at 395° C (200° C) for 25 minutes.
Serve your pie with a green salad.
PS: I try to write in english but it isn't my first language. Sorry if you find some mistakes.