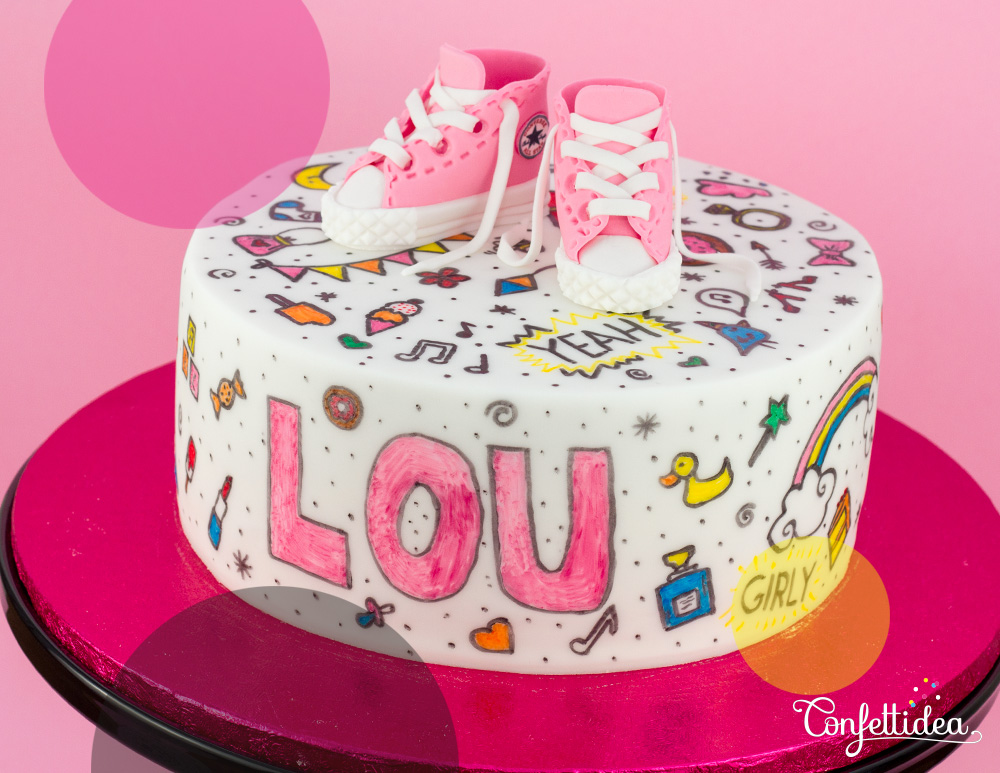 Doodles & Converse Cake
I had the most fun making this cake inspired by Sweetapolita. Do you know her? Her book is amazing! It's full of fun, recipes and stunning ideas. And the pictures make me want to get in the kitchen and play.
My neighbor wanted a cake for her little girl's baptism. I offered several examples and, of course, when I showed her the cake inspired by Sweetapolita with all this doodles, stars appears in her eyes. I was excited to try this way to decorate a cake. It's like a blank canvas awaiting for your creativity.
PS: I try to write in english but it isn't my first language. Sorry if you find some mistakes.
I started to bake a chocolate cake (find recipe below), I then filled it with a Vanilla Italian Meringue Buttercream.
Once the cake is covered in fondant and the exterior has dried out a bit, you can start doodling. PS: this waiting time is just because we don't want the tip of the pens going inside the sugarpaste, we want a drawing and not a texture.
And of course, all the pens are edible ink pens 😉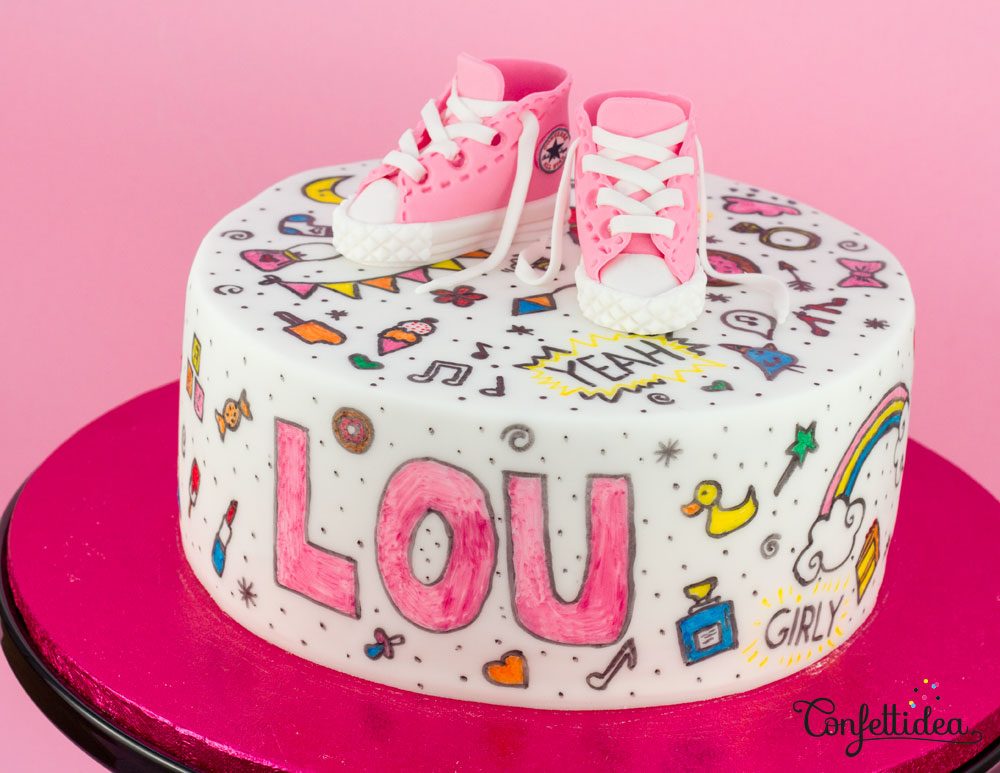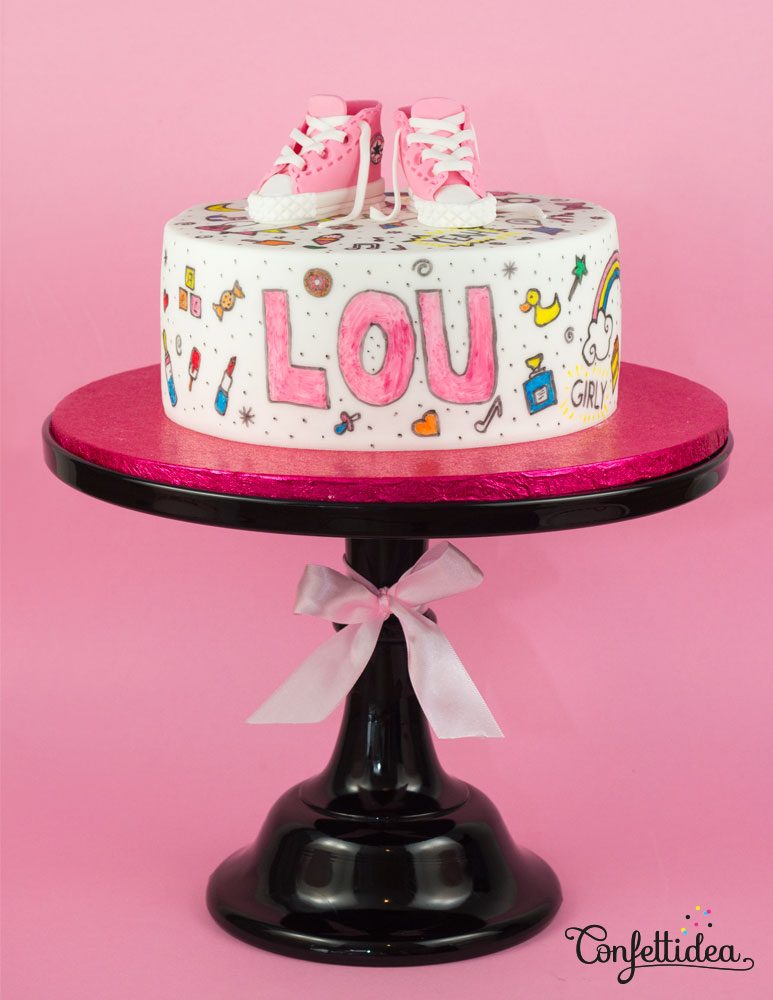 Begins by drawing the outline of your doodles with black pen. Then wait for the ink to dry before coloring. This is to help prevent the colors from mixing together.
You'll see that it's not so easy to draw in a vertical way and sometimes you will not be able to put your hand on the cake (because of the other drawings) so watch the shakes. The best way is to hold your drawing hand with your other hand. This will avoid having hesitant lines (not straight).
And the most complicated is that you can't make a drawing mistake. An awry line and TADAAAAA 🙁 disaster. Hahaha, no I'm kidding. This mishap didn't happen to me but if it happens to you, I advise you to try to make another drawing with your awry line. Anyway, I wish you good luck if you wanted to try this cake idea. But once you have drawn the first doodles, you will notice that it's not so hard. And VOILÀ the cake is over; and you'll certainly be so disappointed that the cake is not bigger to make more doodles.
We have a little discussion with my neighbor to choose what kind of doodles I was going to draw on the cake. She just gave me some themes such as girls (high heels, lipstick, etc…), babies (but not too much), desserts, etc… I also added words like "YEAH", "BOOM" or "GIRLY".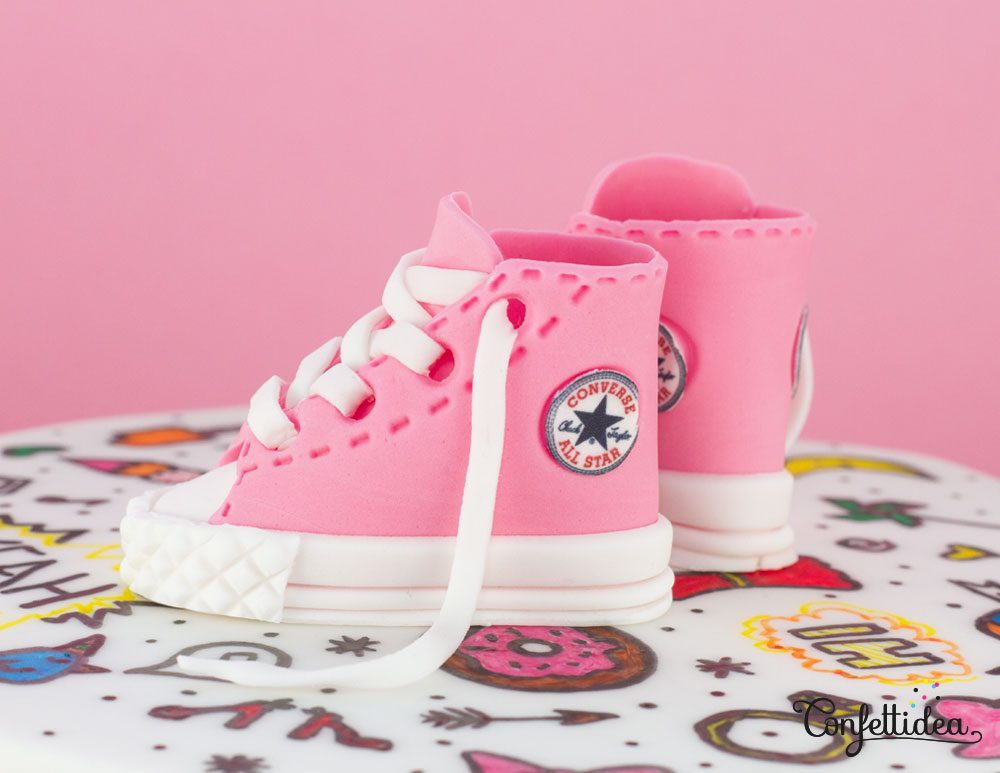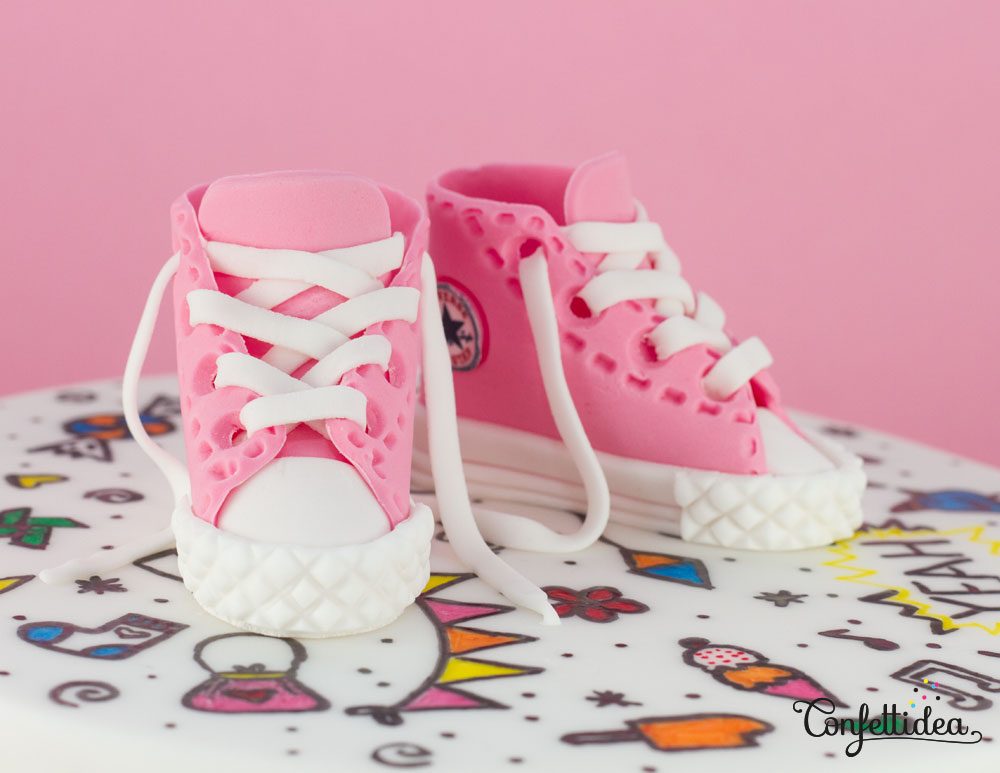 My neighbor wanted to have a "cake topper", it was agreed that I would create small pink converse; so she could keep them in memory if she wanted to. These small sneakers have been made with the set of JEM, Baby High Cut Sneaker, available here. Here it is: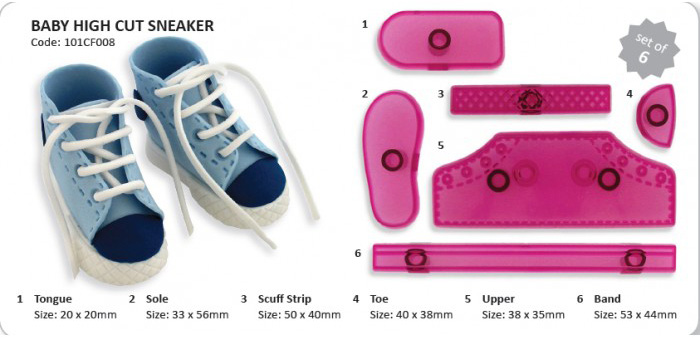 For those who don't know how it works, we can easily find YouTube videos with a tutorial. For example here.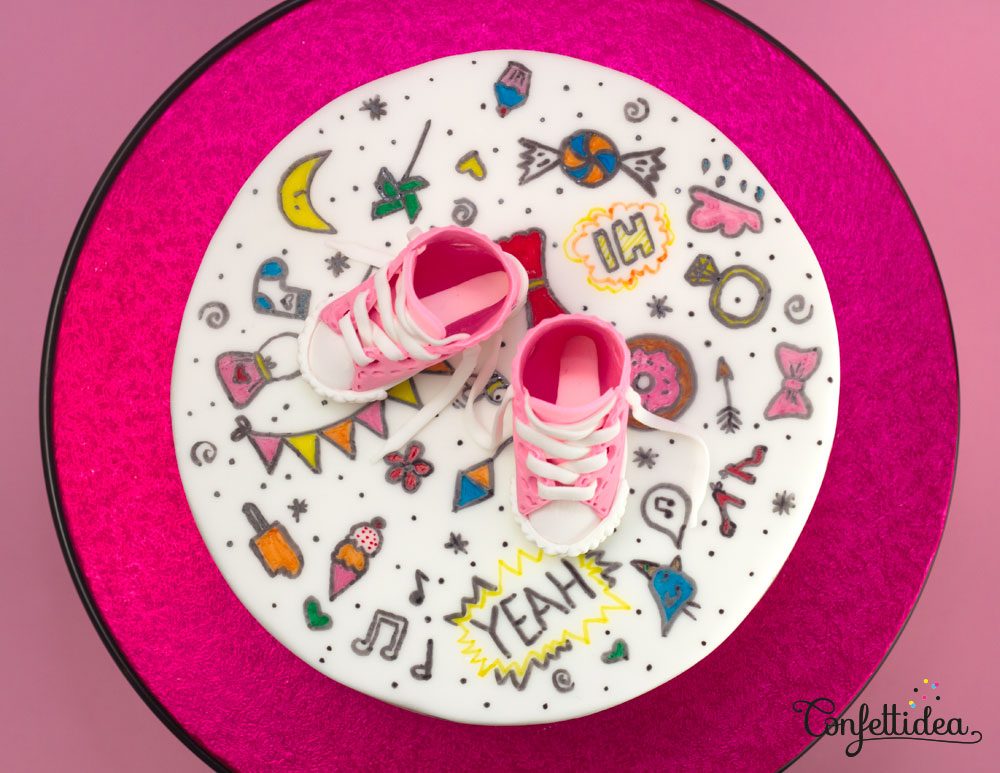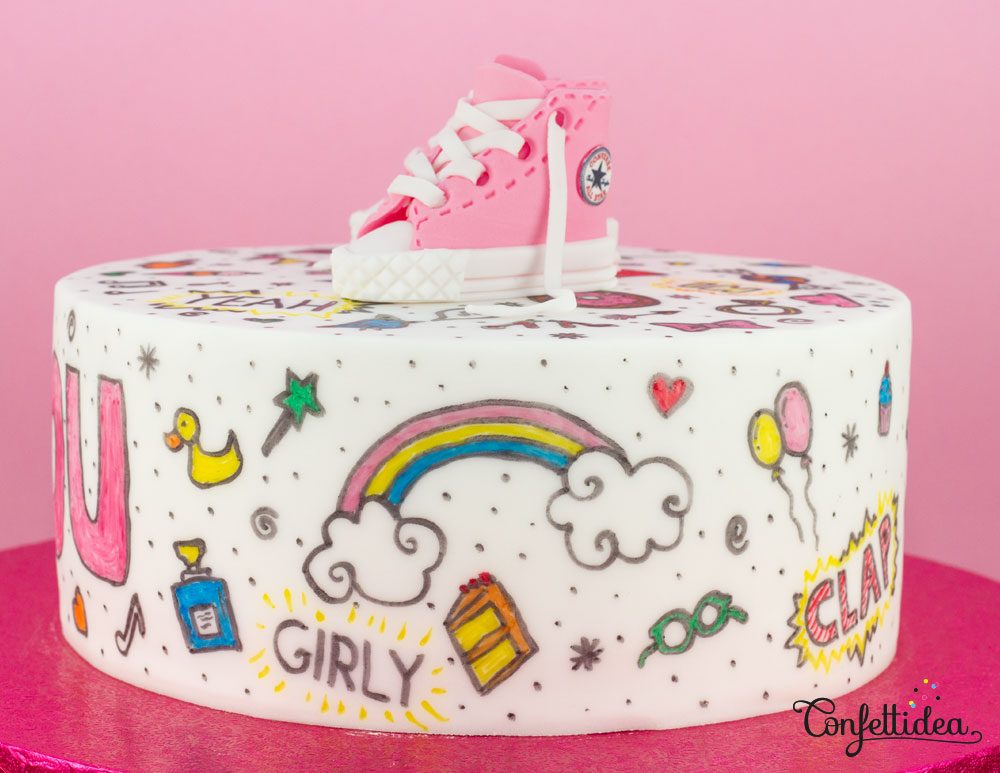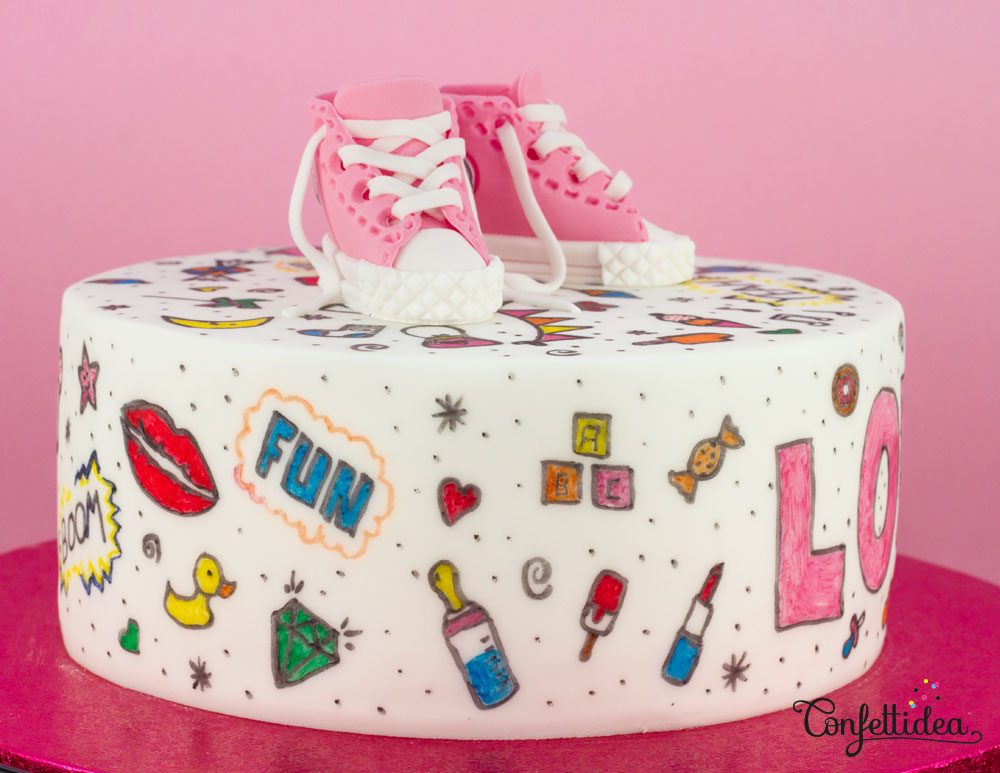 INGREDIENTS
For a round cake, approx. 25 cm
2½ cups (325g) All-purpose flour
1 cup (80g) Unsweetened cocoa powder (It's important to take the bestcocoa powder that you can find. I take this one, it's delicious, and believe me the kind of cocoa powder can really changes the taste of your cake.)
1tsp Baking soda
2tsp Baking powder

½tsp

 Salt
1 Cup (225g) Butter, at room temperature
2 Cups (400g) Sugar
3 Eggs, at room temperature
1tsp Vanilla Extract (I used vanilla paste (in Switzerland, you'll find it in Migros, this one is amazing!))
1½ Cup (360ml) Milk, at room temperature
DIRECTION
Prep: 10 min     Bake: 35-40 min
Preheat the oven to 350° F (180° C). Grease and flour a cake pan. I also add parchment paper in the bottom of the mould to ensure perfect release of the cake.
In a large bowl, whisk together the flour, cocoa powder, baking soda, baking powder and salt. Set aside.
Cream the butter and sugar with a mixer for 5 minutes, until light and fluffy.
Add the eggs, one at a time, to the creamed sugar and butter, mixing until just combined. Scrape down the sides of the bowl after each addition.
Add the vanilla and mis until combined.
Add the flour mixture (prepared in step 2), a third at a time, alternating with the milk in two additions (you'll begin and end with the flour mixture:

flour

/milk/flour/milk/

flour

).
Spread the batter (it will be thick) evenly into the prepared pan.
Bake for 35 to 40 minutes, until a toothpick inserted in the center comes out clean.
Let cool the cake on a drying rack and then release it from the pan.
Tags: cake, chocolate, color, converse, doodles, drawing, pen, sweetapolita